Here we will post the latest news on how our the money that our donors raises helps individuals and communities, with the aim of creating smiling faces across the world. Visit our Charities We Support page for more details.
2018 so far:

smiling faces from Zambia to India, via Afghanistan

In the first six weeks of 2018, the KFF received wonderful updates from three of our new partnerships. We would love you to take a look at the tireless work undertaken by volunteers and specialists on these diverse projects, all supported by the KFF's generous donors:
In Zambia (ZOA-UK): £1,000 towards textbooks to fill a new school library at Twavwane School in Lusaka, helping orphaned and vulnerable lower-secondary school-age children. Read more about the project here.
In India (bursary): £800 to fund nurse Sophie Stevenson (Leicester Royal Infirmary Hospital) to run a transport course for neonatal staff at Bathalapalli Hospital, India. The KFF was keen to support this training venture (evaluation here) as Kate ran a neonatal transport unit.
July 2017:

The KFF visit the Tony Hawks Centre with Childaid

Katy Mack and volunteer Lydia Farrer are just back from a memorable six days visiting the KFF's funded project in Moldova.

We were invited by Martin Wilcox from our partner charity Childaid, to understand how the KFF's grant towards a children's clinic in Chișinău helps improve the lives of chronically ill infants and children in this neglected but welcoming corner of Europe.

Reflections: Katy and Lydia write about their experiences here.

Pictures always speak louder than words, so we have compiled a gallery of our experiences in Moldova below (click on the thumbnail for a larger image) – as you can see, full of smiling faces!
Moldova in pictures: July 2017
The KFF is now considering how best to support Childaid's vital work in Moldova: we will update you with details of our next grant partnership in autumn 2017. For more on Childaid's work across Eastern Europe, visit their website.
---
April 2017:

MAP project report

In August 2016 we were contacted by Medical Aid for Palestinians (MAP) regarding their 'Maternal and Child Health in Lebanon' project. Our donation contributed towards vital medical supplies to improve maternal and child health in Palestinian refugee camps, which are under immense resource and population pressures.

MAPs recent progress report to the KFF states that 3,210 mothers and babies have been visited between April 2016 – December 2016, demonstrating that our funding partnership has helped with higher breastfeeding rates, lower rates of anemia and other key indicators of good maternal and infant health in the camps. In August 2017, one of MAP's officers sent us the photographs above from the refugee camp of Nahr el Bared, around 14 miles North of Tripoli. These heartwarming images of one particular infant supported by the project shows how healthy and happy he is.

We are now discussing a new round of funding with MAP, to continue supporting their vital midwifery programme into 2018. To read more about this and the incredible work MAP undertakes, take a look at this fascinating report and visit their website.
---
February 2017:

BLiSS update report

In 2016 we funded a second cycle of BLiSS's vital skills courses for communities in rural Afghanistan, after receiving about the inspiring progress their team is making. They have just sent us their second report, which we urge you to read here.
---
January 2017:

 back to school for CHEM-U!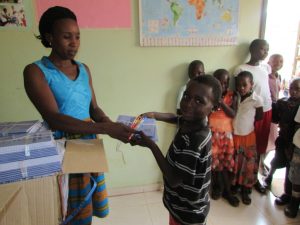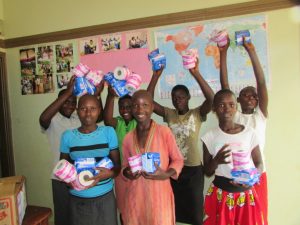 The new school term has started in Uganda, and as you can see the children who we support are enjoying their new school and domestic kits.
32 primary- and 8 secondary-age children have benefited from our partnership so far. Read about how KFF funds enable these children to access books and educational materials, and even enjoy CHEM-U parties!
---
 

September 2016:

 The Mike Campbell Foundation (MCF) report
In early 2016 we pledged funds to the MCF's 'Farming for Destitute Farm Workers' course, which teaches trainee Zimbabwean farmers sustainable methods of conservation agriculture. The course facilitators, from 'Foundations for Farming', reported the challenges and difficulties faced by prospective farmers and the importance of protecting Zimbabwe's fragile ecology through open-pollinated seed farming. They also passed on many positive comments received from its participants:
"I am going to teach my community the principles of management, on time, at standard, without waste and with joy. This was indeed an eye-opener to me and my colleagues"

"Now I am able to farm and take it as a business, feeding my family in the process… I will use this course to change the way my community looks at life, especially turning your enemy into a friend, i.e. weeds becoming the mulch and so preventing the further growth of more weeds"
The KFF is considering future grants to the MCF: in the meantime you can explore how the charity fights injustice across Zimbabwe here.
---
 

CURE International UK:

2015-16 update
We have been delighted to receive progress reports from CURE regarding the KFF-funded Clubfoot programme in Malawi. We challenge you not to smile after reading these children's stories!
---
Visit our 2014 – 2015 projects archive here