Along with email updates, BLiSS sent us enlightening progress reports on their health education programme cycles. in Spring 2016. This both gave us a better understanding of the charity's mission, and how the KFF's support directly helps their health education programme:
Following our first pledge in 2015, BLiSS reported:
"Each cycle consists of teaching the 17 lessons of the BLiSS course to a total of 200 men and women in 4 different villages in Herat province. At the end of each BLiSS course participants are awarded a certificate of participation together with an illustrate booklet ("Miracle of Life") and a small gift useful in preparing for a clean and healthy delivery."
"The funding received from the Kate Farrer Foundation was allocated to the 10th cycle of BLiSS which was completed on 10th February 2016. In this cycle the Birth Life Saving Skills course was taught to 74 men and 126 women in four villages in the Herat province, with a total population of 2,630 families."
For the second half of 2015 the BLiSS project office was in temporary accommodation, which was rather small and not suitable long term, but meant that the office and administrative costs were lower than usual. In addition to this, the villages selected for the 10th cycle were closer to the city than average, so mileage / transportation costs were also lower."
We were happy that our allocated funding was so beneficial, and so decided to pledge support again, now for BLiSS's 13th programme cycle.
In early 2017, BLiSS reported:
"The gift from the Kate Farrer Foundation (£3,500) received in September 2016 was allocated to the 13th cycle of BLiSS which was conducted in 4 villages (Qabul Daraz, Rawashan, Dast e Gerd, Haidarabad) in Injil District of Herat Province, Afghanistan, in October and November 2016. These villages have an average of 290 families living in each, so this cycle will have indirectly benefitted a total of 1,160 families, through 200 people (65 men and 135 women) having participated in the courses and passing on what they have learnt."
BLiSS evaluated the course participants, both male and female, before and after the course and one year on, to monitor their awareness of the birth life saving skills they were taught, and whether their behaviour had altered – did participants carry out pre-natal checks and planning before the delivery, for example? Their findings indicated that: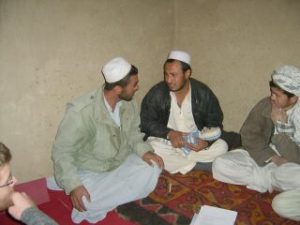 "…men do not retain the knowledge as well as the women, but experience shows that as a result of the BLiSS courses they have a much greater appreciation of the importance of improved practice and knowledge, and become more aware of the needs of women and infants in their families and how these can be met."
BLiSS also provided us with a poignant, but encouraging example of how the participants were directly benefiting from the life skills the charity was teaching:
"A heavily pregnant woman attending the course was very thin and malnourished so when she learned about what an expectant woman should eat to stay healthy and strong she started to keep for herself some of the milk from her cow and eggs from her chickens, rather than selling them all each day. Previously she hadn't wanted to reduce their meagre income by consuming what she could sell, but soon the benefits of good nutrition were visible to all!"
The KFF value the relationship we have with BLiSS, and will be considering future funding cycles in Spring 2017. Check out our Smiling Faces page for updates.